In a week where fighters coming out of retirement has been the primary topic in MMA, two events will be headlined by fighters doing so. And it shouldn't come as a shock.
Death, taxes, and MMA fighters having short-lived retirements. All certainties in life.
In this first week of December 2019, fighter unretirement has been the big story – but not just for a singular entity. There are two events this weekend that will be headlined by fighters who are returning after hanging up the gloves at one point or another. Outside of that, we've caught word that a longtime veteran is intending to get back in the cage soon as well.
When it comes to the latter, that fighter is the 40-year old 56 fight veteran and former Strikeforce welterweight champion, Nate "The Great" Marquardt. As of Tuesday, MMA Junkie confirmed with Marquardt that he is indeed plotting his comeback.
On Dec. 7, we'll be treated to three returning notable names in the MMA world. First, we have one of the middleweight divisions all-time greats in former KSW king, Mamed Khalidov. He will be returning to action for a catchweight bout against the current champion Scott Askham.
While that goes down in Poland, hours later back in the United States we'll see former UFC light heavyweight champion Tito Ortiz, 44, faceoff with Alberto El Patron, 42, in Combate Americas.
El Patron is primarily known for his history and background as a professional wrestler but he is in fact 9-5 in MMA. However, this will be his first fight since February 2010. In the years that have followed he's put his body through the wringer inside the squared circle.
As for his opponent in the legendary "Huntington Beach Bad Boy," this isn't necessarily an unretirement fight as Ortiz fought Chuck Liddell in November 2018 – which at the time was his return to action after publicly announcing he was done competing. And that wasn't even Ortiz's first time retiring as he did so in 2012 after losing his trilogy bout with Forrest Griffin at UFC 148. Thus leading to his four-fight stint with Bellator.
Even though we see it all the time now and it's so highlighted this week, the community is generally still often shocked when they see a fighter ready themselves to go back to war. Really though, it should arguably be expected.
"BJ Penn loves farming. He has his own taro farm… but no one cheers you on when you're taro farming."
That quote is from the multi-talented former UFC veteran Frank Trigg who I spoke with earlier today and incredibly, unfortunately, lost our conversation too. Thankfully, I'm a decent listener with a memory that has yet to be (entirely) eroded by my love for an ice-cold glass of Crown Royal mixed with Coca-Cola.
Among the many topics we discussed and stories that he shared, we touched on this subject. As for Trigg, he's one of those fighters with name value who still gets contacted about becoming someone that could fall into this category. He's been retired now since 2011 and keeps busy with his commentary and referee gigs. Oh, but most importantly in terms of finances, he also works as a stuntman in Hollywood. But he loves them all, of course. Otherwise, he wouldn't be doing them.
When asked if there was anything that could possibly bring the ever-occupied Kendall, New York native out of retirement, he admittedly said yes. The only catch being that the number he has in mind that it would take for him to return is too high for any promotion to ever offer.
To circle away briefly from the money aspect of things, Trigg pointed out something very intriguing. In relation to the quote, "MMA has the highest highs and the lowest lows," he shared his thought that those highs are just too much for fighters to overcome.
"Don't let anyone in this sport tell you they had a plan at the end of their career," Trigg responded when asked if he always planned on getting into refereeing and commentating. For many fighters, fighting is their love and there's no thought of having something replace it when things are all said and done. Therefore leading to getting back into what you know you're good at. And even if something is found… what are the odds that it ends up being something that provides the same highs of being cheered as a world champion level athlete?
As someone who self-assessed himself to never really have that issue as being "the bad guy" throughout most of his career, it hasn't been too hard for Trigg to keep the gloves hung up in that regard.
The thing about MMA, especially as it has and continues to evolve, the doors of opportunity just keep multiplying and becoming easier to open. Back in the day of the Triggs and Matt Hughes' of the sport, the opportunity was limited. When it came to the number of promotions and the cost of proper training and all the outside elements, the outside factors have changed substantially.
Compare MMA to team sports for a second. You rarely – if ever – see basketball or football players unretire. And if they do, they don't end up getting signed to a team. Why? Because there's always someone available to take their spot. In an individual sport like MMA, that's just not a thing. And when each organization is looking to get a leg up on the competition, they'll do whatever they can and drawing the most eyeballs with a notable name is an easy way to do that.
In turn, this relays the additional openings to make some money for someone who is just waiting to get an offer. The New England Patriots are still going to go on to make their money with or without someone as talented as Tom Brady.
The desire to try something new
As alluded to already, the passion still burns bright for a lot of retired athletes. You can't take the fight out of the fighter. MMA is still very young and growing day by day. Certain aspects of the fight game are being innovated practically every year at this point – which can be quite enticing.
When speaking with FanSided last year, former UFC veteran and fan-favorite Chris "Lights Out" Lytle was coming out of a seven-year retirement to compete in bare-knuckle boxing. The first question on most people's minds in these cases; "Why would he ever do that?"
As a firefighter for 17 years and counting, Lytle didn't need to come back. Yet he did because he just loves to punch people in the face.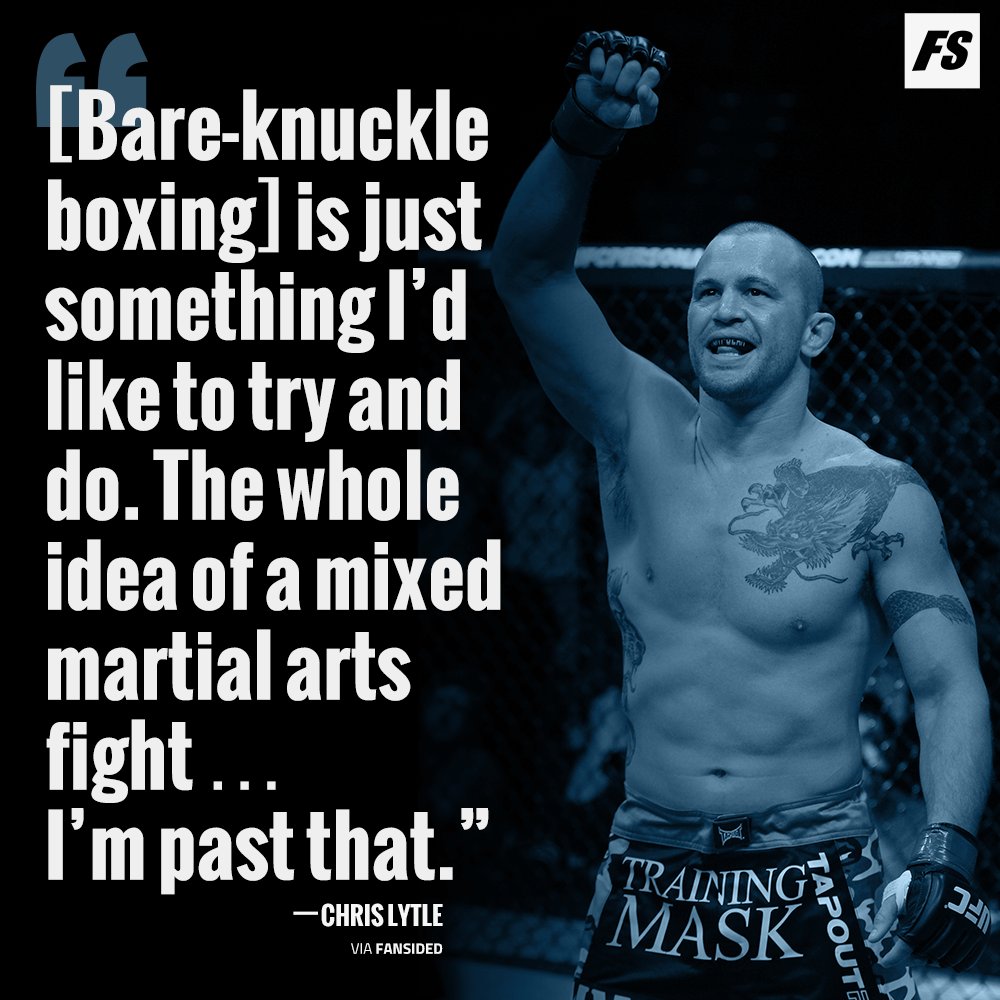 "This is a weird thing … And I think the thing most people will think is nuts is …this is about fun for me and this is just something that I want to do," Lytle said, "Obviously not about the need to do, you know. It's not like financially this is gonna make or break me.
"This might sound weird, but before I get done doing it, I want to have another fight where it's a gut check. Where I have to go in there and overcome some adversity to make it to the end and make it a tough fight.
"When I take a step back and look at my career, those were my favorite fights," he continued, "Ones where it was harder for me. I love my 30-second knockouts, those are great, but I like three-round wars a little bit better. When I look at them I'm like, 'man, that proved a little bit more to me than I hit that guy once, who cares?' I'd be disappointed if I don't have another fight like that. Maybe this [next one] will be it. If not, I'll take another one until I get that, you know?"
The point to takeaway here is that there are a lot more reasons than fans seem to understand as to why these fighters continue to fight perhaps for what is presumed as longer than they should. Sure, it's a regulated sport now. But these competitors, specifically the ones who began when the sport did, are always going to be fighters through and through.
And I mean, when it's all broken down, just going back to what you know is just a hell of a whole lot easier.
____
Make sure to follow The Scrap News (@thescrapnews) on Twitter.
The Scrap's Drake Riggs is an MMA writer and YouTuber based out of Brush Prairie, Washington who specializes in feature pieces, the women's fight scene, lists, news coverage, and rankings. Riggs has been a passionate MMA fan since 2009 and has written for various news sources. You can follow him on Twitter (@Dre_Kriggs).
About Post Author