Top 10 Matches | This Week in Pro Wrestling
Pro Wrestling is filled with more content than one can possibly consume nowadays. Because of that, this column will bring you the best of what is watched each week.
To make things simple, this week spans from Saturday, January 1st, to Saturday, January 8th. The first week of January is known for its colossal shows, especially in Japan. In the following article, Japan's most significant shows are explored and the happenings stateside to find the ten best matches of the week.
10) Kenou (C) vs. Kaito Kiyomiya
GHC National Championship | NOAH The New Year, January 1st
Kenou continues to be the freshest champion in NOAH.
Kenou's style is so refreshing in the modern world of puroresu. Kaito plays his part well and the pair has natural chemistry, but this is a Kenou match with the kicks to prove it.
9) Mayu Iwatani & Starlight Kid vs. Tam Nakano & Saya Kamitani
Stardom Special Showcase Match | NJPW Wrestle Kingdom 16 Night 2, Januray 5th
This match is the example for inter-team wrestling heading into the new year.
So much of what Stardom does best revolves around factions and character work; this match allows that to shine in a densely packed package.
8) Fuminori Abe (C) vs. Shoki Kitamura
ZERO1 World Junior Heavyweight Championship / ZERO1 International Junior Heavyweight Championship | ZERO1 Happy New Year, January 1st
Abe pulls off high speed, junior wrestling better than the vast majority; this match proves this.
ZERO1 is in a strange place; but as long as they continue to allow a platform for simple, solid wrestling such as this, they will have a place in my heart.
7) Kazuchika Okada & Hiroshi Tanahashi vs. Keiji Muto & Kaito Kiyomiya
NJPW Wrestle Kingdom 16 Night 3 – New Japan vs. NOAH, January 8th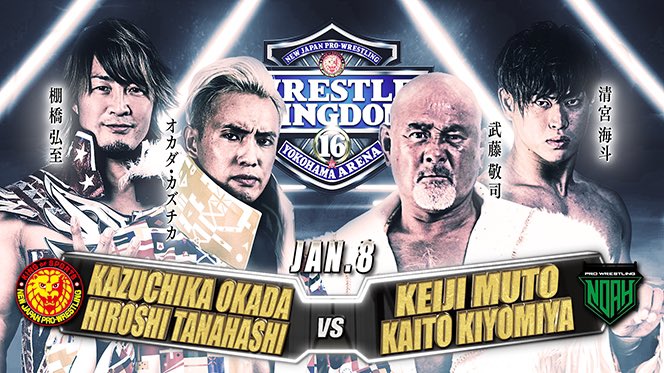 Tag team wrestling is often riddled with flaws stemming from unexplored character dynamics. This match leaves no stone unturned. 
To try and elaborate, this match explores every possible relationship at play compellingly without overstaying its welcome. Throughout its runtime, we see the tense Kaito/Muto pseudo-mentorship, the hospitable competitiveness between Tanahashi and Muto, Kaito's and Okada's parallels to ascent, and so on. This is an oddity, but a very appreciated one.
6) Miyu Yamashita (C) vs. Mizuki
Princess of Princess Championship | TJPW, January 4th
Miyu Yamashita continues to make her 'Best in the World' case stronger every time she steps in the ring to defend her Princess of Princess Championship. 
January 4th is becoming a tradition for Miyu. Two years ago, on that day, she had one of the most interesting matches of the year against Yuka Sakazaki. Last year, she made a star of Maki Ito on the 4th. This year, she had a well-rounded war against Mizuki for the top prize in TJPW.
5) Katsuyori Shibata vs. Ren Narita
NJPW Wrestle Kingdom 16 Night 1, January 4th
Katsuyori Shibata's glorious return was the peak of this year's Wrestle Kingdom, not just in its feel-good nature but in its in-ring quality.
This was Shibata's first real match back, and what a match it was. His chemistry with his protege Ren Narita was off the charts, the grappling was smooth, and the movement was crisp. I cannot say enough positive about this match.
4) Go Shiozaki vs. Kaito Kiyomiya
NOAH New Sunrise, January 4th
Kaito Kiyomiya is a romantic in a world of stoics.
With aid from Go Shiozaki's heavy offense, Kaito displayed the most compelling in-ring character work of the week. This isn't a match without flaw, but Kaito's emotion carries this to a cut above.
3) Minoru Tanaka vs. Hitamaru Sasaki
UWF Rules | Kyushu Pro Tokyo Launch Battle, January 3rd
On a card many would look past, Minoru Tanaka of GLEAT and Hitamaru Sasaki delivered the first shoot style banger of the year.
Tanaka and Sasaki did battle on Kyushu Pro's year opening show under the UWF ruleset. Through the seamless grappling and strikedowns, these men built an exciting match that played in repeat in my head for days.
2) Jonathan Gresham (C) vs. Chris Sabin
ROH World Championship | Pure Rules | IMPACT Hard to Kill, January 8th
For the first time in history, the Ring of Honor Championship was defended in an IMPACT ring, and did it ever deliver.
This was a match full of focused dramatics; in other words, through the highs and lows, Jonathan Gresham wrestled with purpose, resulting in an integrated final product. There are few better at building an interesting match structure than Gresham, and this was certainly not an exception.
1) Hangman Page (C) vs. Bryan Danielson
AEW World Championship | AEW Dynamite, January 5th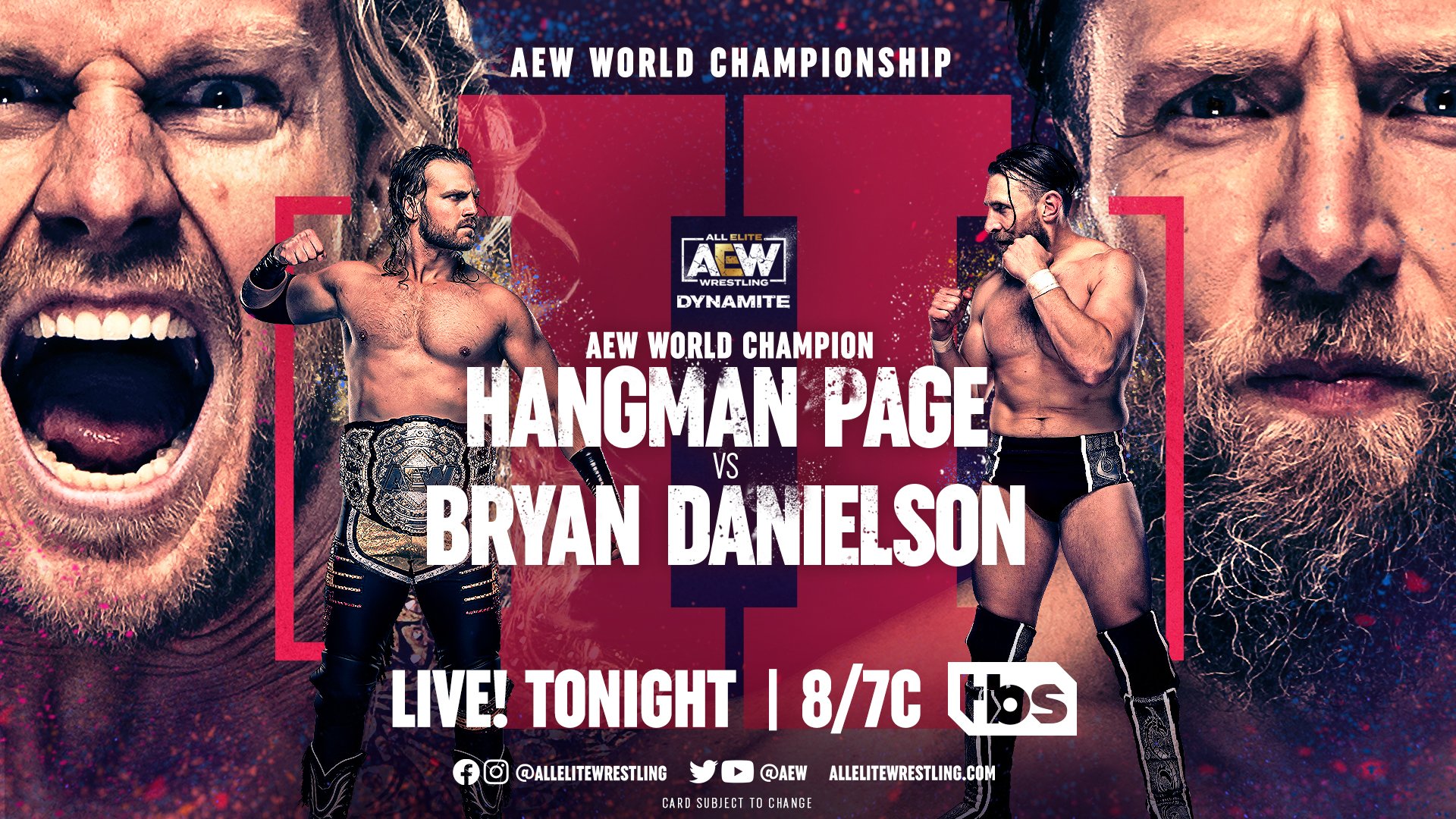 To call this match anything other than an instant classic would be wrong.
On the January 6th edition of AEW Dynamite, Bryan Danielson and Hangman Page had their much-anticipated rematch for the AEW World Championship. This match built upon their last outing in every possible way while being more concise. Hangman shined in his role as a determined babyface; set to overcome his biggest challenge to date, while Danielson's mastery of the craft left every instant of this match fleshed out.
This is a much see match, not just this week, not just in 2022, but in the grand scope of the professional wrestling art form. That is why this is the match of the week.
About Post Author