Minoru Suzuki vs. The Independents
Minoru Suzuki, mixed martial arts pioneer and all-time great pro wrestling freelancer, has returned to the Americas. Aside from his AEW and NJPW dates, Suzuki's schedule is filled with dates on the American independents against a who's who list of opponents.
The following article looks at Suzuki's announced appearances. 
Minoru Suzuki vs. Jonathan Gresham 
September 17th | GCW — Highest in the Room
GCW is the first independent promotion to host Suzuki. On a card featuring Nick Gage, Alex Zayne, Tony Deppen, Chris Dickinson, AJ Gray, and more top-tier wrestlers, one match stands above the rest. Suzuki's first stop on the independents is against "The Octopus" Jonathan Gresham.
Gresham, former ROH Pure Champion, has a genuine claim to the top spot among technical wrestlers. He has built a reputation as a wrestler who can end a match at any time with any move. The numerous stylistic parallels the pair shares, I expect, will make this match. 
Against Suzuki, expect to see Gresham's all.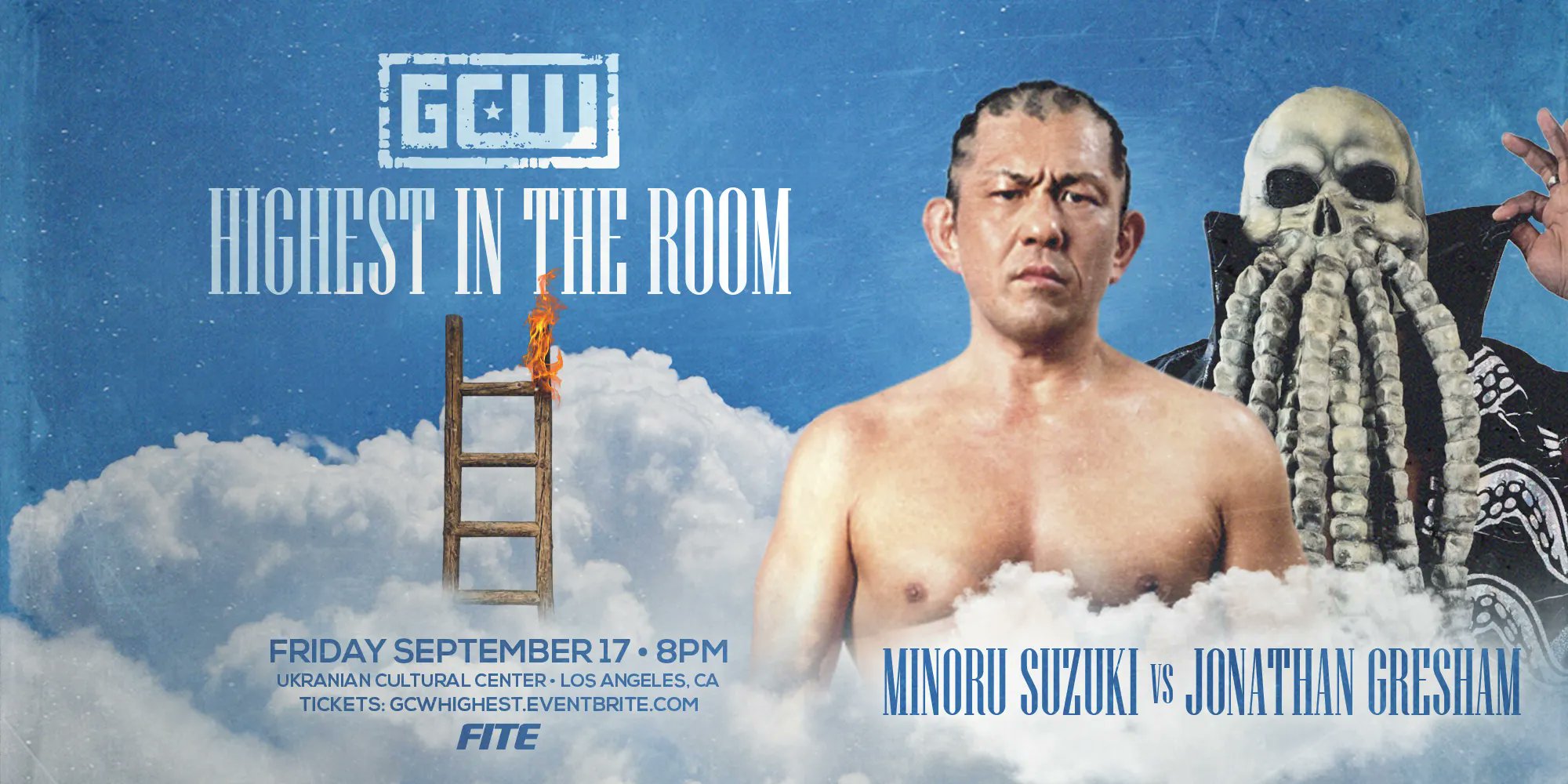 Minoru Suzuki vs. Homicide
September 24th | GCW — Get Lost Alot
GCW continues their arm of the Suzuki tour with Get Lost Alot, a show featuring Taij Ishimor wrestling Tony Depen, a main event calibre match anywhere in the world. Yet, again, Suzuki has a match with even more presence. For his second match, Suzuki challenges Homicide.
Homicide, a fellow legend of the sport of pro wrestling, and Suzuki collide on the 24th of September. While a rival to Suzuki in terms of achievement, Homicide's ringwork is drastically different. Both are exceptionally physical in-ring, sure, but Homicide has a willingness to use his entire body as a weapon with disregard.
What happens when Homicide and Suzuki meet in the squared circle? Violence of great magnitude, I would guess.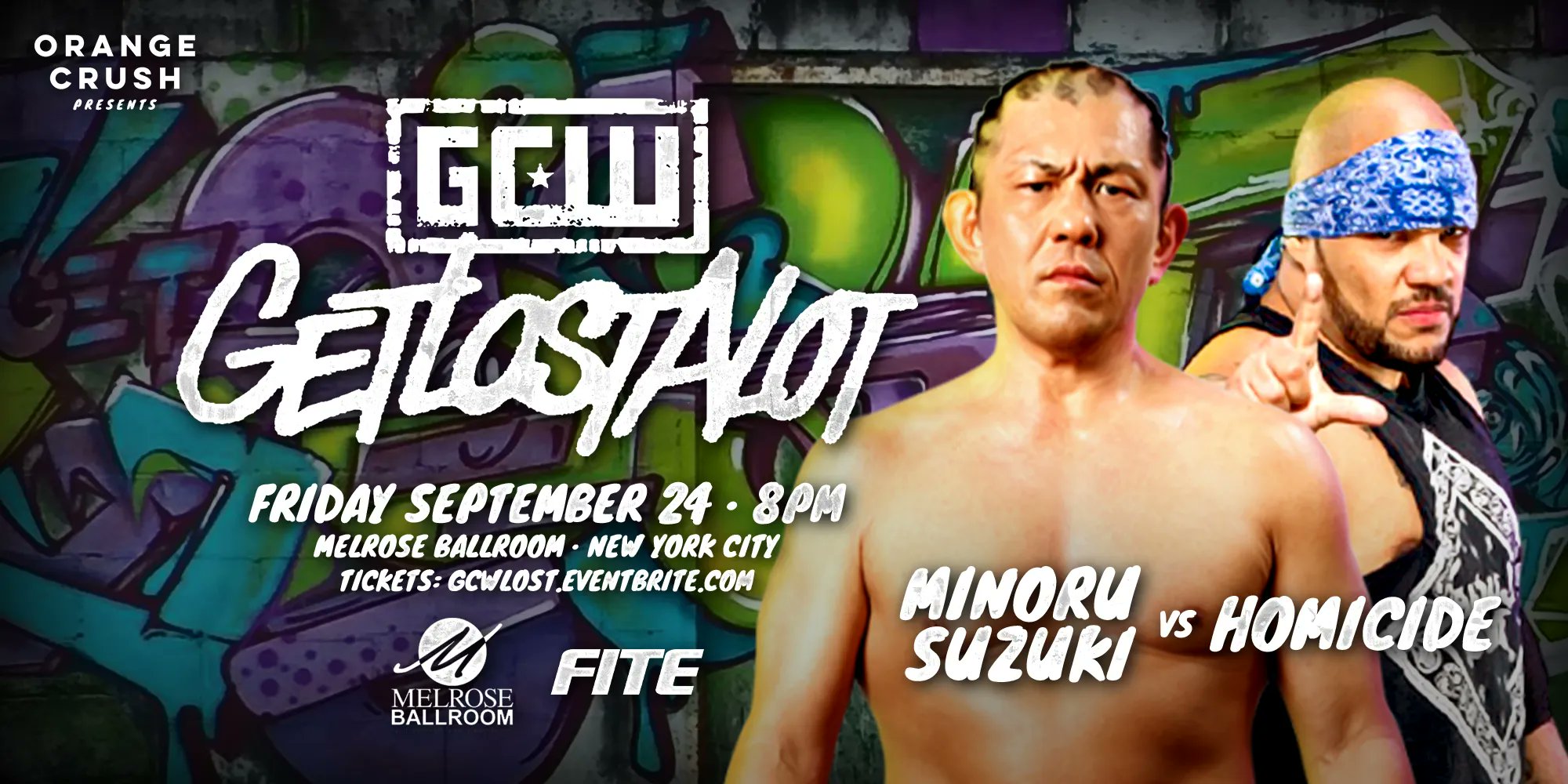 Minoru Suzuki vs. Calvin Tankman
September 24th | GCW — Get Lost Alot
After two dream matches in GCW, Suzuki will find himself in WrestleMax STL. As the only match announced, as of now, the fledgling promotion is using Suzuki's aura to its full potential; an aura his opponent is sure to feel. Calvin Tankman stares down his most Herculean challenger to date, the one and only Minoru Suzuki.
Tankman is young and hungry, no doubt. In fact, he's challenged Homicide and won, but Suzuki is a different animal. Tankman works an elegant style for a super heavyweight, and against Suzuki, he should glow.
Tankman has done nothing but prove himself on nearly every occasion; one should expect nothing less against Suzuki.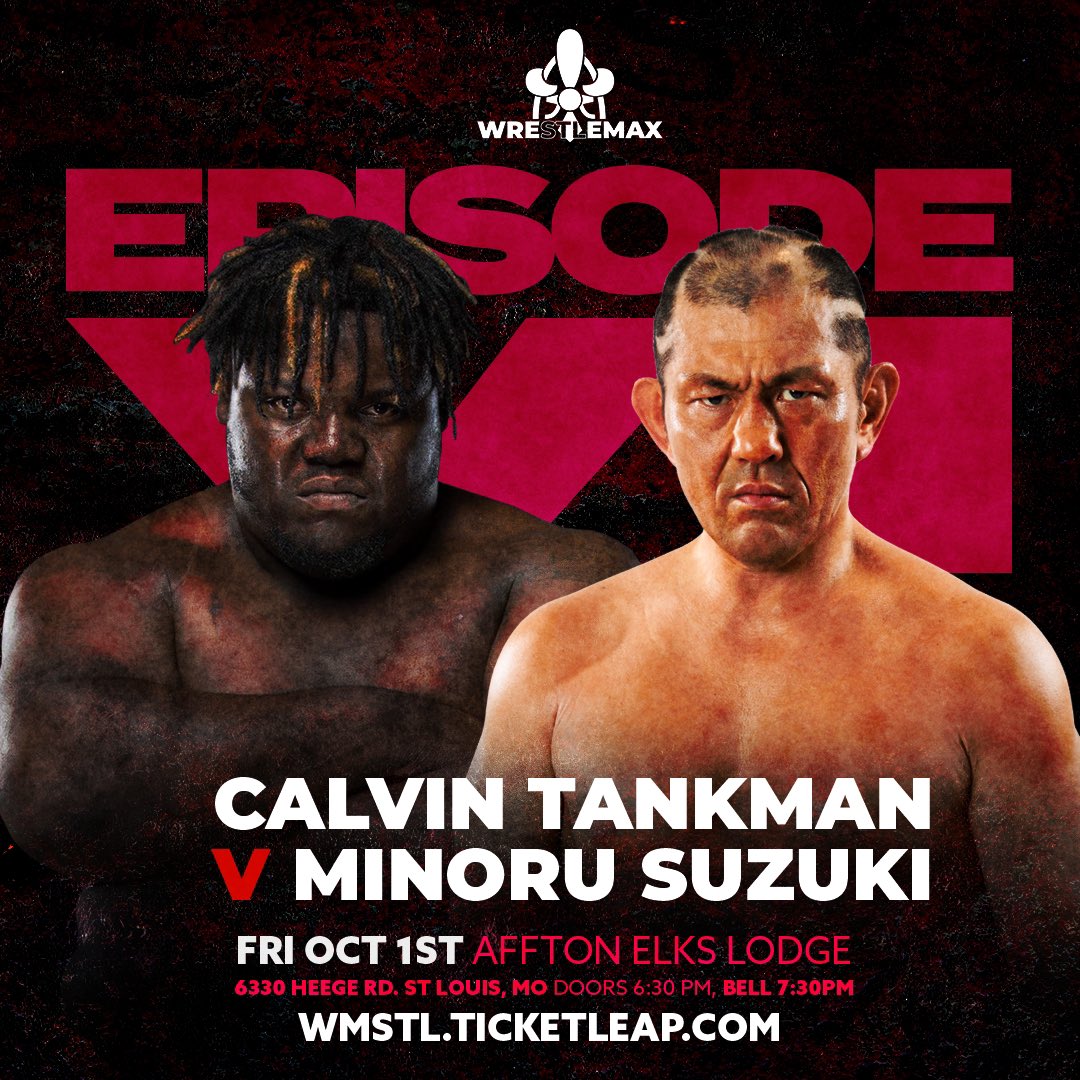 Minoru Suzuki vs. Anthony Henry
October 2nd | PWX — All Hail the King
PWX has built a reputation for their spectacular shows. For instance, the promotion held Jushin Liger's farewell to the Carolinas just two years ago. Come October 2nd, they continue the tradition as they welcome the King, Minoru Suzuki, to do battle with Anthony Henry.
Henry has had an interesting 2021, to say the least. After being signed and released from WWE in meer months, it is safe to say Henry deserves a chance to shine. This fact becomes evident when one sees his expanse into AEW. Early next month gets his deserts when he faces Suzuki.
Who better to showcase your talent against than the King? Soon, Henry will answer the call.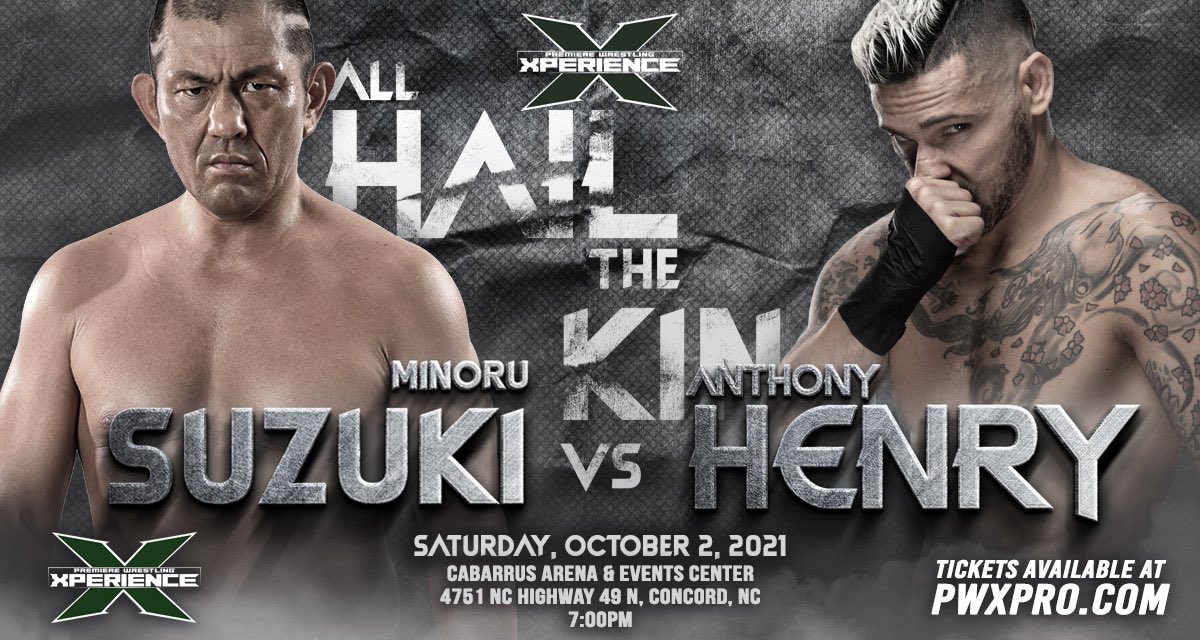 Minoru Suzuki vs. Davey Richards
October 3rd | Glory Pro — Little Ring of Horrors
One of the most exciting stops on the Suzuki tour will happen in a Glory Pro ring. There are very few men who hold a candle to the achievements of Suzuki, but Davey Richards might.
Richards is one of the most spectacular wrestlers of the 2010s. Over his career, Richards has held titles in ROH, PWG, NJPW, TNA, and many more promotions. As a new decade dawns, Richards stands across a man who has stood the test of time better than anyone wrestling today in Suzuki.
When Richards and Suzuki meet for the first time, do not miss it. It is sure to be remarkable.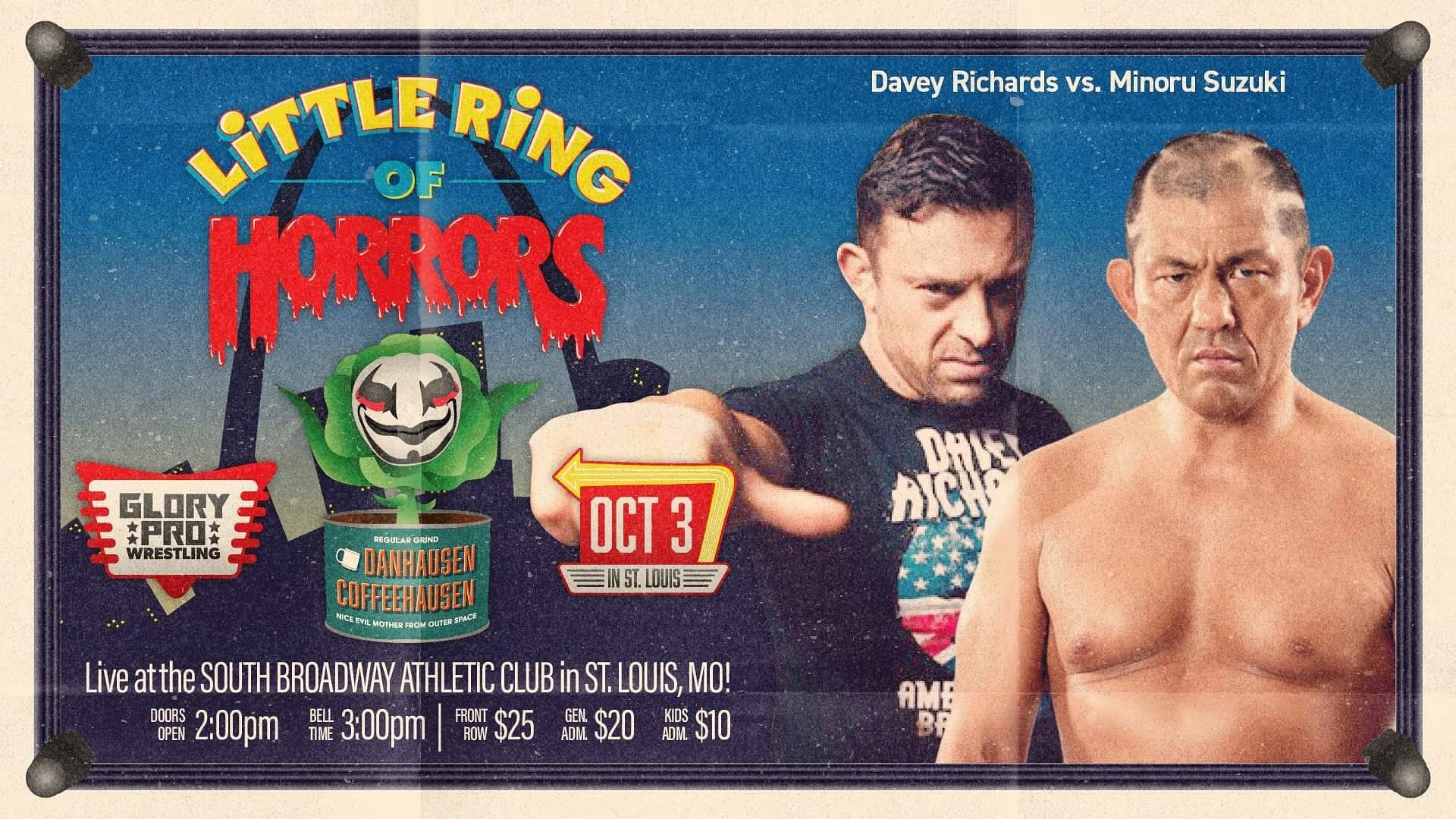 Minoru Suzuki vs. Daniel Garcia
October 8th | West Coast Pro — No Leaf Clover
West Coast Pro celebrates its 3rd anniversary in grand fashion. For the first time ever, Suzuki meets Daniel Garcia.
Garcia has been making waves in recent months, and for good reason. His work in AEW has elevated him tremendously, while his matches on the independents have been nothing short of fantastic. Garcia has a real chance to capitalise on the hype come October 8th when he faces Suzuki.
I expect Suzuki and Garcia to deliver something extraordinary when they share a ring.
Minoru Suzuki vs. ??? 
October 9th and 10th | GCW
To round out his time in GCW, Suzuki has two matches with unannounced opponents. I would assume his opponent for the 9th will be determined from his first two appearances. His sendoff, however, I expect could be something more.
Jon Moxley faces Nick Gage on the 9th for the GCW Championship. If you allow me to speculate, I expect the outcome of that match to affect Suzuki's opponent for the 10th directly. I dare not guess whether that means a Mox/Suzuki rematch under new jurisdiction or a Gage/Suzuki war.
Again, this is speculation, but it seems more than plausible.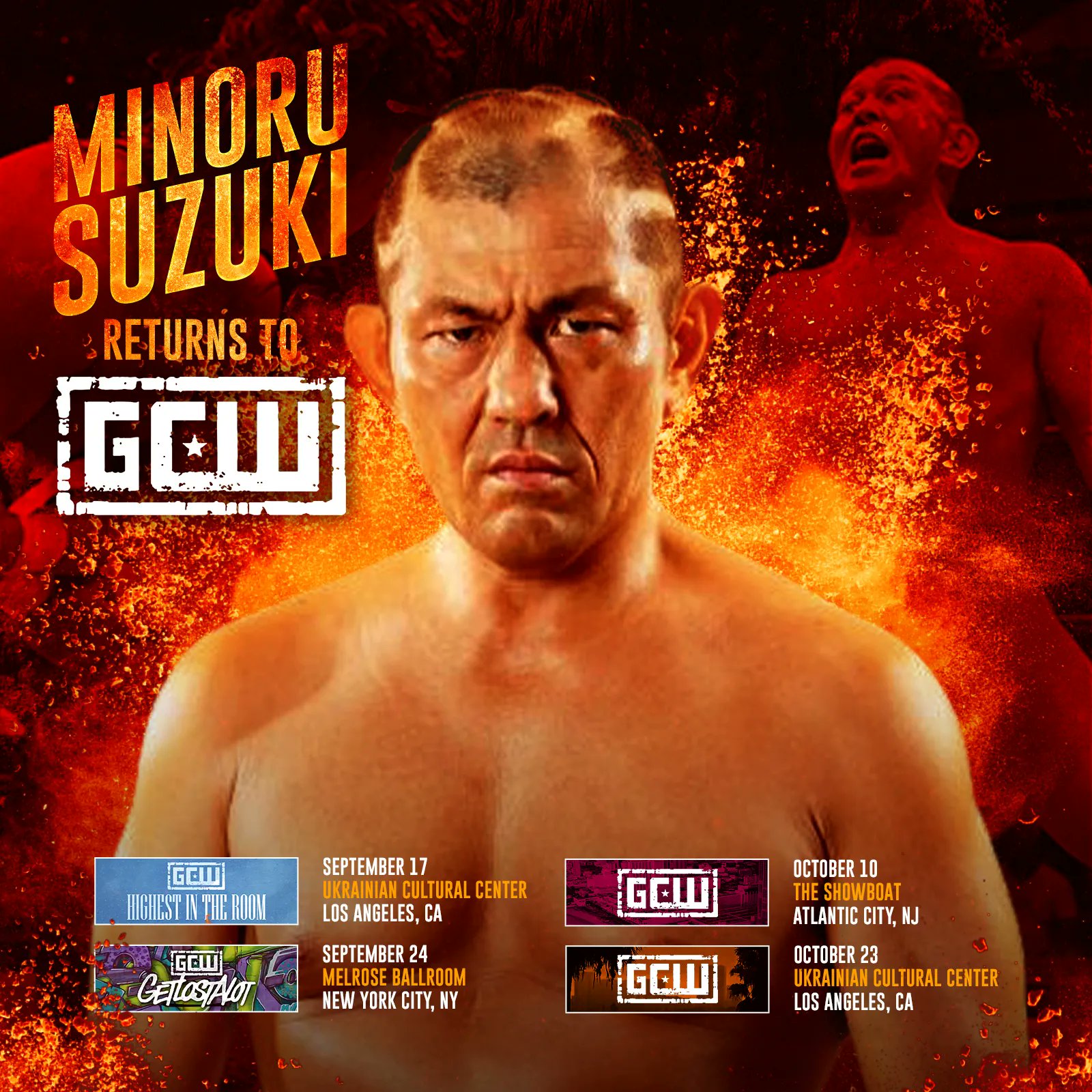 Minoru Suzuki vs. Dominic Garrini
October 21st | TImebomb Pro — Violence is Forever
The end of Suzuki's tour in America comes on the 21st of October on a show hosted by Timebomb Pro, and what an end it is. When Suzuki and Dominic Garrini have diverging paths, violence is sure to result.
Garrini is new blood in the rebirth of shoot-style wrestling. After strong performances under the UWF ruleset, Garrini earned the nickname UWFIcon. On the other hand, Suzuki was in the true "reborn" UWF before trailblazing as the Openweight King of Pancrase. If anyone can put the UWFIcon to the test, it's Suzuki.
When Garrini and Suzuki come to blows, they will prove violence is forever.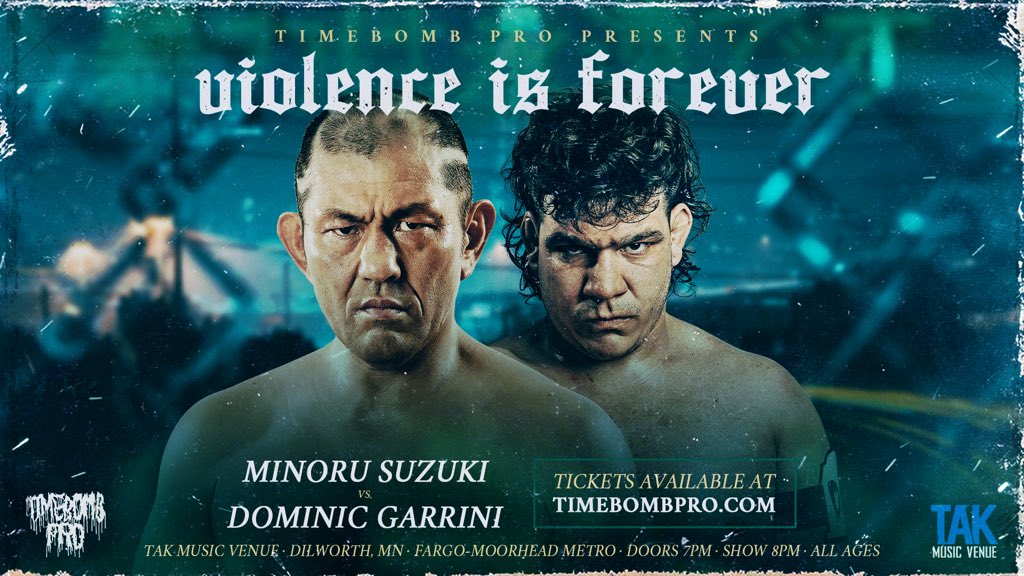 Of course, this list isn't definitive. It just includes announced appearances as of September 13th. Significant gaps in his schedule might be filled with more matches, and cards are subject to change.
Either way, Suzuki's time in America has shot a bolt of lighting into the arm that is independent wrestling.
About Post Author